[Memorandum] Summary of camera specifications of domestic manufacturers
Hello, this is Matsumura, the representative of "PHOTOPRI" who works as a photographer and printer!
This time, I will publish the specs of the camera body summarized as a memorandum.
This information is personally collected, so please use it as a reference.
| | | | | | | | | | | | | | | | |
| --- | --- | --- | --- | --- | --- | --- | --- | --- | --- | --- | --- | --- | --- | --- | --- |
| Maker | product name | Model number (product code) | JAN | total number of pixels | effective pixels | number of pixels | Number of dots (monitor) | sensor size | Image sensor (sensor) | monitor screen size | image stabilization | lens mount | Regular ISO sensitivity | Weight (body only) | size |
| Canon | EOS R5 Body | 4147C001 | 4549292-157345 | 47.1 million pixels | 45 million pixels | 8250×5500 | not listed | full size | Full size CMOS (approximately 35.9 x 23.9mm) | 3.0 type (screen ratio 3:2) | 5 axis | Canon RF mount | ISO100-51200 | 650g | Approx. 138.5 (width) x 97.5 (height) x 88.0 (depth) mm |
| Canon | EOS R5 Body | 4147C001 | 4549292-157345 | 47.1 million pixels | 45 million pixels | 8250×5500 | not listed | full size | Full size CMOS (approximately 36.0 x 24.0mm) | 3.2 type (screen ratio 3:2) | 5 axis | Canon RF mount | ISO100-51200 | 650g | Approx. 138.5 (width) x 97.5 (height) x 88.0 (depth) mm |
| Canon | EOS R3 Body | 4895C001 | 4549292-181661 | 26.7 million pixels | 24.1 million pixels | 6000x3164 | not listed | full size | Full-size back-illuminated laminated CMOS sensor (approximately 36.0 x 24.0 mm) | 3.2 type (screen ratio 3:2) | 5 axis | Canon RF mount | ISO100 to 102400 (1/3, 1 step) | 822g | Approximately 150.0 (width) x 142.6 (height) x 87.2 (depth) mm |
| Canon | EOS RP Body | 3380C001 | 4549292-132144 | 26 million pixels | 26.2 million pixels | not listed | not listed | full size | CMOS sensor (supports dual pixel CMOS AF) | 3.0 type (3:2) / about 1.04 million dots | none | Canon RF mount | ISO sensitivity automatic setting / ISO100 to 40000 manual setting | 440g | Approximately 132.5 (width) x 85.0 (height) x 70.0 (depth) mm |
| Canon | EOS R Body | 3075C001 | 4549292-119282 | 30.1 million (6720 x 4480) pixels | 30,300,000 pixels *Rounded to the nearest 10,000 | not listed | not listed | full size | CMOS sensor (supports dual pixel CMOS AF) | 3.15 type (3:2) / about 2.1 million dots | none | Canon RF mount | ISO100-40000 automatic setting | 580g | Approximately 135.8 (width) x 98.3 (height) x 84.4 (depth) mm |
| Canon | EOS Kiss M2 Body | EOSKISSM2 BODYBK | 4549292176292 | 25.8 million pixels | 24.1 million pixels | not listed | About 1.04 million dots | APS-C | Approximately 22.3 x 14.9 mm (APS-C size) | Wide 3.0 type (3:2) | No in-body image stabilization | Canon EF-M mount | ISO 100-25600 | 351g | 116.3 (width) x 88.1 (height) x 58.7 (depth) mm |
| SONY | α7C ILCE-7C body | ILCE7CS | 4548736121621 | 25.3 million pixels | 24.2 million pixels | 6000×4000 | not listed | full size | 35mm full size (35.6 x 23.8mm), Exmor R CMOS sensor | 7.5cm (3.0 type) TFT drive (touch shutter / touch focus / touch pad / touch tracking) | 5-axis (correction method depends on lens specifications) | E-mount | ISO100-51200 | 424g | 124 (width) x 71.1 (height) x 59.7 (depth) mm |
| SONY | α7S III ILCE-7SM3 body | 4548736121331 | 4548736121331 | 12.9 million pixels | 12.1 million pixels | not listed | Number of dots: 1,440,000 dots | full size | 35mm full size (35.6 x 23.8mm), Exmor R CMOS sensor | 7.5cm (3.0 type) TFT drive | Image sensor shift method 5-axis correction (correction method depends on lens specifications) | E-mount | ISO 80-102,400 (extended to ISO 40-409,600) | 614g | Approx. 128.9 x 96.9 x 80.8mm, Approx. 128.9 x 96.9 x 69.7mm (from grip to monitor) |
| SONY | α7 III ILCE-7M3 body | 4548736079625 | 4548736079625 | 25.3 million pixels | 24.2 million pixels | not listed | Number of dots: 2,359,296 dots | full size | 35mm full size (35.6 x 23.8mm), ExmorR CMOS sensor | 7.5cm (3.0 type) TFT drive | Image sensor shift method 5-axis correction (correction method depends on lens specifications) | sony e mount lens | ISO100-51200 | 565g | Approximately 126.9 (width) x 95.6 (height) x 73.7 (depth) mm (*62.7 (depth) mm (from grip to monitor)) |
| SONY | α1 ILCE-1 body | 4548736130678 | 4548736130678 | 50.5 million pixels | 50.1 million pixels | not listed | Number of dots: 9,437,184 dots | full size | 35mm full size (35.9 x 24.0mm), Exmor RS CMOS sensor | 7.5cm (3.0 type) TFT drive | Image sensor shift method 5-axis correction (correction method depends on lens specifications) | E-mount | ISO100-32000 | 652g | Approx. 128.9 x 96.9 x 80.8mm, Approx. 128.9 x 96.9 x 69.7mm (from grip to monitor) |
| SONY | α6400 ILCE-6400 Body | 4548736092044 | 4548736092044 | 25 million pixels | 24.2 million pixels | not listed | Number of dots: 2,359,296 dots | APS-C | APS-C size (23.5 x 15.6mm), Exmor CMOS sensor | 7.5 cm (3.0 type) wide TFT drive | Compatible with interchangeable lenses (depending on lens specifications) | sony e mount lens | ISO100-32000 | 359g | Approximately 120.0 (width) x 66.9 (height) x 59.7 (depth) mm (*49.9 (depth) mm (from grip to monitor) |
| SONY | VLOGCAM ZV-E10 body | 4548736128361 | 4548736128361 | 25 million pixels | 24.2 million pixels | not listed | Number of dots: 921 600 dots | APS-C | APS-C size (23.5 x 15.6 mm), Exmor CMOS sensor | 7.5 cm (3.0 type) TFT drive | [Still image] Compatible with interchangeable lenses | E-mount | ISO100-32000 | 299g | Approximately 115.2 x 64.2 x 44.8 mm (from grip to monitor) |
| SONY | α7R IV ILCE-7RM4 Body | 4548736128477 | 4548736128477 | 62.5 million pixels | 61 million pixels | not listed | 1,440,000 dots | full size | 35mm full size (35.7×23.8mm), Exmor R CMOS sensor | 7.5cm (3.0 type) TFT drive | 7.5cm (3.0 type) TFT drive | sony e mount lens | ISO100-32000 | 580g | Approximately 128.9 (width) x 96.4 (height) x 77.5 (depth) mm (*67.3 (depth) mm (from grip to monitor)) |
| SONY | α6600 ILCE-6600 body | 4548736108417 | 4548736108417 | 25 million pixels | 24.2 million pixels | not listed | 921 600 dots | APS-C | APS-C size (23.5 x 15.6mm), Exmor CMOS sensor | 7.5 cm (3.0 type) wide TFT drive | Image sensor shift method 5-axis correction (correction method depends on lens specifications) | sony e mount lens | ISO100-32000 | 418g | Approximately 120.0 (width) x 66.9 (height) x 69.3 (depth) mm (* 59.0 (depth) mm (from grip to monitor)) |
| SONY | α6000 ILCE-6000 Body | ILCE6000B 2 | 4905524974263 | 24.7 million pixels | 24.3 million pixels | not listed | 921 600 dots | APS-C | APS-C size (23.5 x 15.6mm), "Exmor" APS HD CMOS sensor | 7.5 cm (3.0 type) wide TFT drive | Compatible with interchangeable lenses (depending on lens specifications) | sony e mount lens | ISO100-25600 | 285g | Approximately 120.0 (width) x 66.9 (height) x 45.1 (depth) mm (* from grip to monitor) |
| SONY | α7R IV ILCE-7RM4A body | ILCE7RM4A | 4548736128477 | 62.5 million pixels | 61 million pixels | not listed | 2,359,296 dots | full size | 35mm full size (35.7×23.8mm), Exmor R CMOS sensor | 7.5cm (3.0 type) TFT drive | Image sensor shift method 5-axis correction (correction method depends on lens specifications) | E-mount | ISO100-32000 | 580g | Approximately 128.9 (width) x 96.4 (height) x 77.5 (depth) mm (*67.3 (depth) mm (from grip to monitor)) |
| SONY | α7R III ILCE-7RM3A Body | 4548736128378 | 4548736128378 | 43.6 million pixels | 42.4 million pixels | not listed | 2,359,296 dots | full size | 35mm full size (35.9×24.0mm), Exmor R CMOS sensor | 7.5cm (3.0 type) TFT drive | Image sensor shift method 5-axis correction (correction method depends on lens specifications) | E-mount | ISO100-32000 | 572g | Approximately 126.9 (width) x 95.6 (height) x 73.7 (depth) mm (*62.7 (depth) mm (from grip to monitor)) |
| SONY | α9 II ILCE-9M2 Body | 4548736108288 | 4548736108288 | 28.3 million pixels | 24.2 million pixels | not listed | 1,440,000 dots | full size | 35mm full size (35.6×23.8mm), Exmor RS CMOS sensor | 7.5cm (3.0 type) TFT drive | Image sensor shift method 5-axis correction (correction method depends on lens specifications) | sony e mount lens | ISO100-51200 | 593g | Approximately 128.9 (width) x 96.4 (height) x 77.5 (depth) mm (*67.3 (depth) mm (from grip to monitor)) |
| olympus | OM-D E-M1 Mark III Body | 4545350053000-34-39620 | 4545350053000 | 21.77 million pixels | 20.37 million pixels | not listed | Number of dots: 1.04 million dots | Four Thirds | 4/3 type Live MOS sensor | 3.0 type 2 axis movable liquid crystal | In-body image stabilization (imaging sensor shift type 5-axis image stabilization) | micro four thirds mount | ISO 64-6400 (Normal) / ISO 64-25600 (Extended) | 504g | Approximately 134.1 mm (W) x 90.9 mm (H) x 68.9 mm (D) |
| olympus | OM-D E-M1X Body | OMD EM1X BODY | 4545350052621 | 21.77 million pixels | 20.37 million pixels | not listed | Number of dots: 1.04 million dots | Four Thirds | 4/3 type Live MOS sensor | 3.0 type 2 axis movable liquid crystal | In-body image stabilization (imaging sensor shift type 5-axis image stabilization [*]) | micro four thirds mount | ISO200-25600 | 849g | 144.4mm (W) x 146.8mm (H) x 75.4mm (D) (* CIPA compliant width x height x depth not including protrusions) |
| olympus | OM-D E-M5 Mark III Body | 4545350052768 | 4545350052768 | 21.77 million pixels | 20.37 million pixels | not listed | Approx. 1.04 million dots (3:2) | Four Thirds | 4/3 type Live MOS sensor | 3.0 type 2 axis movable liquid crystal | Imaging sensor shift type 5-axis image stabilization | micro four thirds mount | Auto ISO: ISO LOW (equivalent to approximately 64) to 6400 Manual ISO: LOW (equivalent to approximately 64), 200 to 25600 | 366g | 125.3 mm (W) x 85.2 mm (H) x 49.7 mm (D) * (CIPA compliant width x height x depth not including protrusions) |
| olympus | OLYMPUS PEN E-P7 Body | EP7 BODY WHT | 4545350053581 | 21.77 million pixels | 20.3 million pixels | not listed | 1.04 million dots (3:2) | Four Thirds | 4/3 type Live MOS sensor | 3.0 type tilt movable liquid crystal (capacitive touch panel) | In-body image stabilization (imaging sensor shift type 5-axis image stabilization) | micro four thirds mount | ISO200-25600 | 289g | 118.3mm (W) x 68.5mm (H) x 38.1mm (D) (* CIPA compliant width x height x depth not including protrusions) |
| Nikon | Z fc body | ‎Zfc | 4960759906311 | 21.51 million pixels | 20.88 million pixels | 5568×3712 | not listed | APS-C | 23.5 x 15.7mm size CMOS sensor, Nikon DX format | Vari-angle 3.0-inch TFT LCD monitor (touch panel) | Lens shift method (when using VR lens) | Nikon Z mount | ISO 100 to 51200 (step width: 1/3 step) | 390g | Approximately 134.5 x 93.5 x 43.5 mm (width x height x depth) |
| Nikon | Z6II Body | 4960759905901 | 4960759905901 | 25.28 million pixels | 24.5 million pixels | 6048 x 4024 pixels *For FX (36 x 24) | not listed | full size | 35.9 x 23.9mm size CMOS sensor, Nikon FX format | Tilt-type 3.2-inch TFT LCD monitor (touch panel) | Image sensor shift method 5-axis correction | Nikon Z mount | ISO 100-51200 | 615g | Approximately 134 x 100.5 x 69.5 mm (width x height x depth) |
| Nikon | Z7II Body | 4960759905697 | 4960759905697 | 46.89 million pixels | 45.75 million pixels | 8256×5504 pixels | not listed | full size | 35.9 x 23.9mm size CMOS sensor, Nikon FX format | Tilt-type 3.2-inch TFT LCD monitor | Image sensor shift method 5-axis correction | Nikon Z mount | ISO 64-25600 | 615g | Approximately 134 x 100.5 x 69.5 mm |
| Nikon | Z5 body | Z5BODY | 4960759904485 | 24.93 million pixels | 24.32 million pixels | 6016×4016 pixels | About 1.04 million dots | full size | 35.9 x 23.9mm size CMOS sensor, Nikon FX format | Tilt-type 3.2-inch TFT LCD monitor (touch panel) | Image sensor shift method 5-axis correction | Nikon Z mount | ISO 100 to 51200 (step width: changeable to 1/3, 1/2 steps) | 590g | Approximately 134 x 100.5 x 69.5mm |
| Nikon | Z6 body | Z6 BODY | 4960759901484 | 25.28 million pixels | 24.5 million pixels | not listed | 2.1 million dots | full size | 35.9 x 23.9mm size CMOS sensor, Nikon FX format | Tilt-type 3.2-inch TFT LCD monitor (touch panel) | Image sensor shift method 5-axis correction | Nikon Z mount | ISO 100-51200 (1/3, 1/2 steps) | 585g | Approximately 134 x 100.5 x 67.5mm |
| Nikon | Z7 body | Z7 BODY | 4960759901088 | 46.89 million pixels | 45.75 million pixels | 8256×5504 | 2.1 million dots | full size | 35.9 x 23.9mm size CMOS sensor, Nikon FX format | Tilt-type 3.2-inch TFT LCD monitor (touch panel) | Image sensor shift method 5-axis correction | Nikon Z mount | ISO 64-25600 | 585g | Approximately 134 x 100.5 x 67.5 mm |
| panasonic | LUMIX DC-GH5 Body | DC-GH5-K | 4549077845511 | 21.77 million pixels | 20.33 million pixels | not listed | Approximately 1.62 million dots monitor | Four Thirds | 4/3 type Live MOS sensor | Aspect ratio 3:2/3.2 type | Image sensor shift method, 5-axis correction (depending on lens specifications) | micro four thirds mount | ISO100-25600 | 645g | Width about 138.5mm x height about 98.1mm x depth about 87.4mm |
| panasonic | LUMIX DC-G9 Body | 732903 | 4549980016695 | 21.77 million pixels | 20.33 million pixels | not listed | Approximately 1.04 million dots monitor | Four Thirds | 4/3 type Live MOS sensor | Aspect ratio 3:2 / 3.0 type | Image sensor shift method, 5-axis correction (depending on lens specifications) | micro four thirds mount | ISO 100-25600 | 586g | Width about 136.9mm x height about 97.3mm x depth about 91.6mm |
| panasonic | LUMIX DC-GH5M2 Body | 4549980499771-34-40718 | 4549980499771 | 21.77 million pixels | 20.33 million paintings | not listed | 1.84 million dots | Four Thirds | 4/3 type Live MOS sensor | Aspect ratio 3:2/3.0 type | Image sensor shift method, 5-axis correction (depending on lens specifications) | micro four thirds mount | ISO 100-25600 | 647g | Width approx. 138.5mm x Height approx. 98.1mm x Depth approx. 87.4mm |
| panasonic | LUMIX DC-S5 Body | DCS5K | 4549980624180 | 25.28 million pixels | 24.2 million pixels | not listed | 1.84 million dot monitor | full size | 35mm full size (35.6mm x 23.8mm) CMOS sensor | Aspect ratio 3:2/3.0 type | Image sensor shift method, 5-axis correction (depending on lens specifications) | Leica Camera L-Mount | ISO 50-204800 | 630g | Width about 132.6mm x height about 97.1mm x depth about 81.9mm |
| full size | α7R III ILCE-7RM3 body | ILCE7RM3 1 | 4548736075139 | 43.6 million pixels | 42.4 million pixels | not listed | 1,440,000 dots | full size | 35mm full size (35.9 x 24.0mm), ExmorR CMOS sensor | 7.5cm (3.0 type) TFT drive | Image sensor shift method 5-axis correction (correction method depends on lens specifications) | sony e mount lens | ISO100-32000 | 572g | Approximately 126.9 (width) x 95.6 (height) x 73.7 (depth) mm (*62.7 (depth) mm (from grip to monitor)) |
| fujifilm | FUJIFILM X-E4 Body | FUJIFILM X-E4F X-E4-B | 45-47410-442625 | not listed | 26.1 million pixels | *6240 x 4160 (https://fujifilm-x.com/ja-jp/products/cameras/x-e4/specifications/) | not listed | APS-C | 23.5mm x 15.6mm (APS-C size) X-Trans CMOS 4 sensor with primary color filters | 3.0 type 3:2 aspect TFT color liquid crystal monitor with tilting touch panel Approx. 1.62 million dots | none | FUJIFILM X-mount | ISO160-12800 | 315g | [Width] 121.3mm x [Height] 72.9mm x [Depth] 32.7mm (thinst part) |
| fujifilm | FUJIFILM X-S10 | FUJIFILM X-S10F X-S10C | 45-47410-440348 | not listed | 26.1 million pixels | 6240×4160 | not listed | APS-C | 23.5mm x 15.6mm (APS-C size) X-Trans CMOS 4 sensor with primary color filters | 3.0 type 3:2 aspect TFT color LCD monitor with vari-angle touch panel Approx. 1.04 million dots | 5-sensor shift method 5-axis correction | FUJIFILM X-mount | ISO160 to 12800 (1/3 steps) | 415g | [Width] 126.0mm x [Height] 85.1mm x [Depth] 65.4mm (32.9mm at thinnest point) |
| fujifilm | FUJIFILM X-T4 Body | 4547410427875 | 4547410427875 | not listed | 26.1 million pixels | 6240×4160 | not listed | APS-C | 23.5mm x 15.6mm (APS-C size) X-Trans CMOS 4 sensor with primary color filters | 3.0 type 3:2 aspect | Sensor shift method 5-axis correction | FUJIFILM X-mount | ISO160 to 12800 (1/3 steps) | 526g | [Width] 134.6mm x [Height] 92.8mm x [Depth] 63.8mm (37.9mm at thinnest point) |
| fujifilm | FUJIFILM X-Pro3 Body | 4547410421774 | 4547410421774 | not listed | 26.1 million pixels | 6240×4160 | Approx. 1.62 million dots | APS-C | 23.5mm x 15.6mm (APS-C size) X-Trans CMOS 4 sensor with primary color filters | 3.0 type 3:2 aspect | No in-body camera shake | FUJIFILM X-mount | ISO160-12800 | 447g | Width] 140.5mm x [Height] 82.8mm x [Depth] 46.1mm (Thinnest part 34.8mm) |
| fujifilm | FUJIFILM GFX100S Body | GFX100S 2 | 4547410442861 | not listed | 102 million pixels | 11648×8736 | Approximately 2.36 million dots | medium size | 43.8mm x 32.9mm Bayer CMOS sensor with primary color filters | 3.2-inch 3-direction tilt touch panel TFT color LCD monitor | Sensor shift method 5-axis correction | FUJIFILM G-mount | ISO100-12800 (1/3 steps) | 821g | (Width) 150.0mm x (Height) 104.2mm x (Depth) 87.2mm (Thinnest part 44.0mm) |
| fujifilm | FUJIFILM X-T30 Body | FXT30 BODY S 2 | 4547410399660 | not listed | 26.1 million pixels | 6240x4160 (3:2) | About 1.04 million dots | APS-C | 23.5mm x 15.6mm (APS-C size) X-Trans CMOS 4 sensor with primary color filters | 3.0 type 3:2 aspect | Compatible with lenses with camera shake correction function | FUJIFILM X-mount | ISO160-12800 | 333g | [Width] 118.4mm x [Height] 82.8mm x [Depth] 46.8mm (31.9mm at thinnest point) |
| fujifilm | FUJIFILM GFX50S II Body | 4547410452297 | 4547410452297 | not listed | 51.4 million pixels | 8256 x 6192 | 2.36 million dots | medium size | 43.8mm x 32.9mm Bayer CMOS sensor with primary color filters | 3.2-inch 3-direction tilt touch panel TFT color LCD monitor | | Sensor shift method 5-axis correction | ISO100-12800 (1/3 steps) | 819g | (Width) 150.0mm x (Height) 104.2mm x (Depth) 87.2mm (Thinnest part 44.0mm) |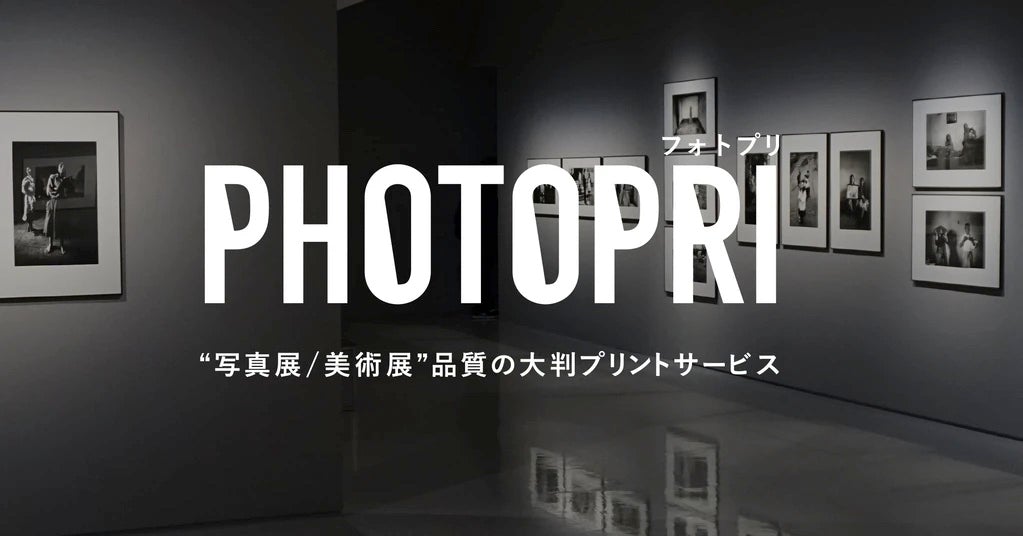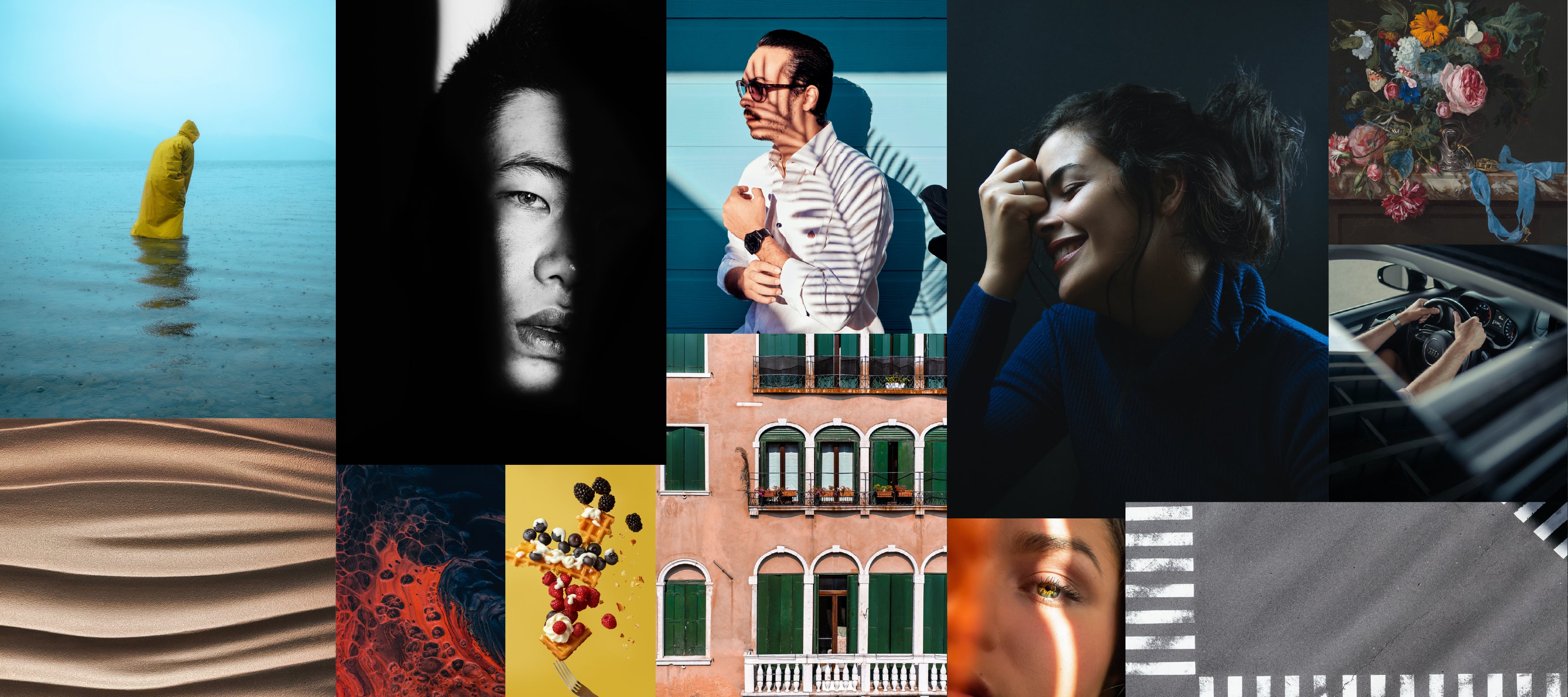 TEST PRINT
無料のお試しプリント
写真展品質の大判プリントサービス"PHOTOPRI"では最大B0ノビサイズのプリントに対応しており、私を含むプロのスタッフが熟練のカラーマッチングでお写真やイラスト・絵画作品を高精細かつ美しく仕上げております。
A1サイズで約2500円〜とクオリティに反してリーズナブルですのでよかったらご検討ください!
A4サイズであれば最大無料のお試し印刷もやっているので、まずは品質を確認してみてくださいね〜!
お試しプリントへ